The demolition of buildings on prime real estate is underway today to make room for a large Hilton Homewood Suites hotel. After putting up poles, but apparently no protective fences around what is known as the "Fondren House," the building was destroyed today, as this video shows.
and that's the end of 2819 North State Street

Posted by Jason Meeks on Thursday, September 21, 2017
Neighbors are complaining that Alan Lange, a businessman who owned the property and now invests in the hotel, had said in a public meeting earlier this week that "the Fondren House will be the last thing torn down." He also told a Fondren promotional publication, Find It in Fondren, in August that the developers would be sensitive to the Fondren House.
"We've spent many hours researching the possibility of relocating the 'Fondren House,' more recently used as offices," Lange told the Fondren glossy. "While the experts who have evaluated the structure indicate that the property is likely not financially feasible to relocate, we are still reviewing options for relocating that or possibly one of the other houses in the parcel for reuse."
Over the years, Lange emerged as an outspoken conservative and was a constant critic of the Jackson Free Press in our early years of publication. At one point, he ran a Jackson crime blog at jacksoncrime.org with a large gun at the top to indicate that he was "packing" against all the criminals in Jackson. That site, and other opinion sites he was involved with, are now defunct or no longer under his direction.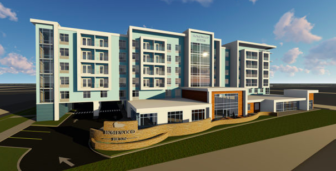 The Heritage Hospitality Group plans a 125-room Hilton Homewood Suites Hotel on the site, once the other buildings on the parcel are torn down, including the one that long housed Que Sera Sera restaurant (with its fabulous outdoor patio) and more recently Green Ghost Tacos, which was forced to close its Fondren location due to the hotel plan.
The Mississippi Business Journal reported that the hotel will cater to an emerging medical corridor in the area, which is close to University of Mississippi Medical Center and other health-care businesses. Chico Patel, chief executive of the Ridgeland-based organization, said he also wants business travelers to choose his Hilton.
The hotel will add "another piece to the Fondren business and economic renaissance," Patel said in a press release.
Many residents, and fans of Fondren's small-town feel and support of locally owned businesses, are not thrilled about the demolition and closing of local businesses. No doubt, a different Fondren will result.