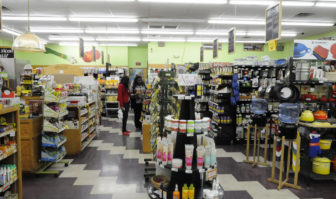 On Friday, Aug. 4, Rainbow Natural Grocery Cooperative announced in a press release that on Sunday, Aug. 6, the co-op will host a Rainbow Community Day. Here is the release verbatim:
The Rainbow Warriors, a volunteer group of supporters of Rainbow Natural Grocery Cooperative today announced they are sponsoring a Rainbow Community Day this Sunday, August 6th from noon to 6:00 p.m. They are encouraging and inviting everyone in the community to shop big at Rainbow on Sunday.
"Sundays are special at Rainbow. Everyone can get 10% or even 20% off everything they purchase." said Luke Lundemo, a volunteer. "Rainbow has 12,000 members."
"Membership is free and only takes 30 seconds at the checkout counter to sign up – no paperwork. All members get 10% off everything on Sundays." Charlotte Lundemo added, "Member-owners get 20% off everything on Sundays. To own Rainbow you just buy one share of stock for $75 and you get a lifetime of these great discounts."
Volunteers say they are making this effort now because 17 years of flooding caused by a city building permit error have taken their toll on the ability of the cooperative to compete and survive.
"Rainbow has endured about 30 floods which have cost the cooperative hundreds of thousands of dollars. The city has failed to fix this disaster and it's time to end this problem," said Luke Lundemo.
Sunday will be the kick-off day for a Rainbow Legal Defense Fund. There will be a table set up in Rainbow Plaza where anyone can join that effort.
Other efforts on Sunday will include promotion of the Mayors 30-day Vegan Challenge. Many people have joined the mayor in accepting the 30-day Vegan Challenge made by Pamela Anderson and PETA (People for the Ethical Treatment of Animals). Rainbow Warriors will be distributing buttons participants can wear, saying what day they are on in the challenge. Rainbow operates High Noon Café which for over 25 years has been Mississippi's greatest vegan restaurant.
Mississippians Say No to GMOs will also have a table in Rainbow Plaza on Sunday. The group is celebrating growing to 500 members. Nearly ten years ago Rainbow made a policy of eliminating foods on their shelves that contain GMOs (genetically modified ingredients). Recent studies have concluded that glyphosate, the main ingredient in Roundup which is sprayed profusely on most GMO crops, is a probable carcinogen.
The goal of Sunday's Rainbow Community Day is to make that day set a new Sunday sales record for Rainbow this year.
Charlotte added, "Increasing our community spending at Rainbow is the best way to make this valuable community resource stronger and insure that it will be able to support the health of our community for many years to come."
Rainbow Natural Grocery Cooperative is located at 2807 Old Canton Road right at the heart of the Fondren community. The store is open on Sundays from noon to 6:00 p.m. All other days the store is open from 9:00 a.m. until 7:00 p.m.
For more information about the event call: Charlotte Lundemo 601-981-6925 or Luke Lundemo 601-937-7224, [email protected] To reach Rainbow directly call 601-366-1602