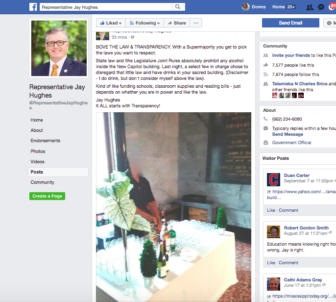 Rep. Jay Hughes, D-Oxford, wasn't playing today when he took to Facebook to expose a violation of the no-alcohol rule in the hallowed halls of the Mississippi State Capitol. He posted, verbatim:
ABOVE THE LAW & TRANSPARENCY. With a Supermajority you get to pick the laws you want to respect:
State law and lthe Legislature Joint Rules absolutely prohibit any alcohol inside the New Capitol building. Last night, a select few in charge chose to disregard that little law and have drinks in your sacred building. (Disclaimer – I do drink, but don't consider myself above the law).
Kind of like funding schools, classroom supplies and reading bills – just depends on whether you are in power and like the law.
Jay Hughes 
It ALL starts with Transparency!
And, apparently, Tanqueray. After the crazy "emergency" vote over Jackson Public Schools today, I can't help but wonder if the supermajority was pre-celebrating the impending vote to take over JPS schools. Visions of the Jackson airport takeover are dancing in my heads. Nothing like people whose families fled the city after schools integrated, took their resources, voted to keep schools under-funded—basically burned it all down behind them—now voting to have the damn State of Mississippi run our district. As if they're not running the state (and roads and bridges and basic liberties, and, and…) into the ground at the Capitol.
Oh, and Clarion-Ledger, you can really kiss Jackson's butt for this editorial today supporting the JPS takeover. More on that soon.
What a year, what a day.