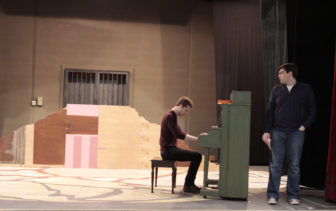 On Saturday, Oct. 14, New Stage Theatre will hold open auditions for its Unframed Series. Here is a press release about the event verbatim:
The Unframed Series at New Stage Theatre will be conducting open auditions for the upcoming Unframed at New Stage Theatre Series! New and aspiring actors of all ages are welcome!
The plays for consideration include modern classics from the late great, Sam Shepard, comedic contemporaries and original works written by community members. Auditions will be held at the Warehouse Theatre (1000 Monroe Street, Jackson MS 39202) Saturday Oct. 14, from 5:30 p.m. to 7:30 p.m. Please prepare one to two contemporary monologues that are two to five minutes long. Also, provide a headshot and resume that can stay with the directors.
The Mission of the Unframed at New Stage Theatre series is to provide an alternative theater experience to the community. The goal of the series is to attract audiences that are interested in contemporary theater. The Unframed at New Stage Theatre Series provides artistic opportunities to emerging artists. Local actors, directors and technical staff gain experience working with a professional theater company, and work on fresh, exciting material that's not typically produced on the main stage.
The series has produced current, often provocative fare such as Neil Labute's "The Shape of Things" and "How I Learned to Drive" by Paula Vogel, "The Pillowman" by Martin McDonagh, "Dublin Carol" by Conor McPherson, "Betrayal" by Harold Pinter, "Musical of Musicals" by Joanne Bogart and Eric Rockwell, and "Stick Fly" by Lydia Diamond.
For more information on The Unframed Series at New Stage Theatre, please contact Resident Teaching Artist Chris Roebuck at 601.948.3533 ext. 236 or [email protected]