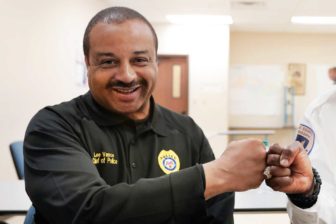 Former JPD Chief Lee Vance sat down with Donna Ladd to discuss his run for Hinds County Sheriff.
Vance is probably Sheriff Victor Mason's best-known challenger, Vance spent 30 years with the Jackson Police Department after growing up on Wood Street. "I started school when schools were still segregated, went to Mary C. Jones Elementary School."
Although he retired just months into the Chokwe Antar Lumumba mayoral administration, he's been endorsed by the major in the sheriff's race.
This episode is brought to you by the members of the JFP VIP Club. Join at jfp.ms/VIP and help support JFP programming such as Let's Talk Jackson.
Check out the episode on Soundcloud at https://soundcloud.com/letstalkjxn/ltjpx01-lee-vance.