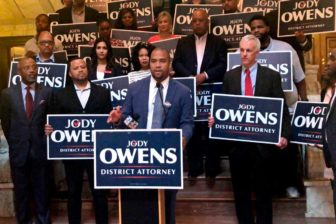 In this, the fourth episode in a limited series for for the 2019 political season, Donna Ladd speaks with Jody Owens, a candidate for district attorney in Hinds County. Owens is originally from Terry, Mississippi, where he grew up in the country on a farm. He went to Terry High School, Jackson State University and on to law school. Recently he was head of the Southern Poverty Law Center's Mississippi office. In June, Jackson Mayor Chokwe Antar Lumumba endorsed Owens, who is campaigning as a reformer, as a replacement for outgoing district attorney Robert Shuler Smith.
This episode is brought to you by the members of the JFP VIP Club. Join at jfp.ms/VIP and help support JFP programming such as Let's Talk Jackson.
Check out the episode on Soundcloud at https://soundcloud.com/letstalkjxn/ltjpx04-jody-owens-hinds-da.
Links:
jfp.ms/news/2019/jun/25/jody…istrict-attorney-sys/
www.facebook.com/OwensforHindsDA
www.owensforda.com/