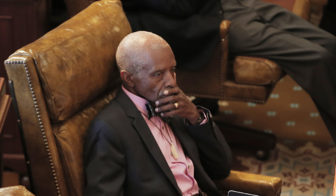 In this episode of our special series for the 2019 political season, state reporter Ashton Pittman spoke with Senator Hillman Frazier, who is running for re-election in Mississippi's 27th district, representing a large part of West Jackson and most of the Clinton area.
Senator Frazier first entered the legislature as a member of the House in 1980; he's been in the Mississippi Senate since 1993, where he's the chairman of the Housing committee and vice-chair of Universities and Colleges; he also sits on the Appropriations, Judiciary A and Public Health and Welfare committees, among others.
www.facebook.com/htfrazier/
jfp.ms/politics/
This episode is brought to you by the members of the JFP VIP Club. Join at jfp.ms/VIP and help support JFP programming such as Let's Talk Jackson.
Check out the episode on Soundcloud at https://soundcloud.com/letstalkjxn/ltjpx12-sen-hillman-frazier.