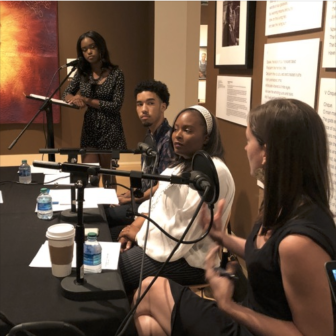 In this special episode sponsored by the Mississippi Museum or Art, we recorded this podcast in front of a live audience at the Museum on Sept 10th, 2019 as a part of Art Nights, which is sponsored by Baker Donalson.
Our host was Maisie Brown, a Murrah high school senior who recently took a position as Youth Program Director & Communications Associate for the Institute for Democratic Education in America.
Maisie was joined on stage by the Museum's curator of American art, ELIZABETH ABSTON, along with DR. RASHELL SMITH-SPEARS, an associate professor of English Literature at Jackson State University, and JEFFREY CALIEDO, also a senior at Murrah High School, who was crowned the ACT-SO National Champion of Written Poetry by the NAACP for his poem "Igneous." He wrote and read a poem in response to the Margaret Walker poem, "This is My Century: Black Synthesis of Time" the poem that serves as inspiration for the museum's new exhibition, title "New Symphony of Time."
Let's Talk Jackson is sponsored by Mississippi Federal Credit Union; this episode also is brought to you by the Center for Art & Public Exchange at the Mississippi Museum of Art. More at http://museumcape.org/.
This episode is brought to you by the members of the JFP VIP Club. Join at jfp.ms/VIP and help support JFP programming such as Let's Talk Jackson.
Check out the episode on Soundcloud at https://soundcloud.com/letstalkjxn/ltj-art-1×01-new-symphony-of-time.