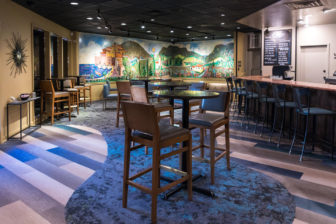 It's been a crazy month for the team behind Mangia Bene as they renovated and revamped the company's longest-standing restaurant, BRAVO! Italian Restaurant & Bar. From Aug. 28-Sept. 26, the restaurant went through a complete remodel, including fixing the foundation. Here is a Mangia Bene press release verbatim:
It's no secret that BRAVO! Italian Restaurant & Bar, one of Jackson's favorite places to eat and celebrate, has had a lot going on the last month. Since Aug. 28, this classic among Jackson diners has been temporarily closed while it underwent a stunning transformation. On Sept. 26, the renovation was complete, and BRAVO! reopened with a private Grand Unveiling celebration.
Why the complete remodel? A few years ago, BRAVO!'s structural foundation began a "parting of the ways." "The kitchen wanted to move to Byram, while the dining room wanted to stay here in Jackson," quipped Jeff Good, BRAVO! co-owner. "A support beam under the pizza oven was giving out. (Jeff and I) knew something would have to be done. But we didn't know how or with what money," says Dan Blumenthal, chef and co-owner. When the new ownership of Highland Village approached Jeff and Dan to work out a generous plan to fix the foundation that would require the restaurant to close for a month, the two knew they had to make the most of it.
"When it became clear we would have to close for an extended period, we knew we would definitely remodel our kitchen. We had been talking about it for years. So we enlisted the help of two excellent individuals and their well-respected firms to help us manage the project: Billy Ware of Mid-State Construction and Katie Browning of CDFL Architects," Jeff explained. Lee Shain of Highland Village helped create a project management schedule and provided a central point of administrative contact to ensure all parties were on the same page.
With the structural project set, and the kitchen remodel plans in place, Dan and Jeff realized that closing for an extended period just to fix parts of the restaurant that no diner would ever see would not provide any value to our guests. So, they decided to up the ante. "We knew we couldn't be closed for a month and disrupt our guests' experience without giving them something. It was clear that we needed to overhaul the dining room too," says Jeff.
That's where the incredible design team of Erik Kegler and Brennan Hovell of Erik Kegler Interiors, owners of EK Home came in to help. BRAVO! needed an all new, modern look that would honor the welcoming and relaxing atmosphere people love—it still needed to feel like BRAVO!—but it needed new life and vitality. The design they created does just that, but of course, there were a couple obstacles.
"Not going to beat around the bush. We had no money, it was all going into the foundation and the kitchen, but we wanted to do something incredible with the dining room. We had been saving money for two years in preparation for the work, but we were still short. So we came up with an ingenious plan to raise the funds—we held a celebratory event called "The Closer" and auctioned off all our furniture and fixtures. We also auctioned off in-home dining experiences to be held during the shutdown. The party was a huge success with 270 people in attendance, and we sold every single stick of furniture, every light, even the mint bowl by the front door!" Jeff shared. Dan and Jeff worked with Eleni Sanford of Trustmark Bank to fill the funding gap, and the budget was set.
With all the plans and budgets and designs set, there was still one huge concern left to address, the most important one of all—the BRAVO! team. Many of BRAVO!'s staff have been with them for years and are like family, and it did not sit right with Jeff and Dan to leave them out of work for a month. "So we decided to pay them—which is pretty much unheard of, but it really worked out because we needed a construction crew to make the front house remodel happen so … it is thanks to their hard work that you see this fantastic new space. They were our crew—we literally couldn't have done it without them. Ripping out sheetrock, laying floors, putting in ceiling tiles, sanding, scraping, painting, everything was done by our staff. And they were happy to be here with us! It is an absolutely incredible family we have here," Jeff continues, "It was a once-in-a-lifetime experience for me to unplug and spend a full month of my life focused on one thing—one project—and do it with people I have nothing but the utmost in respect for. They are awesome!"
Erik Kegler was impressed too: "To take an untrained crew and in a month, get them to these results is stunning. I couldn't be more proud. We have very high expectations for the quality of work that goes into our designs and they met them."
These results could not have happened without strong leadership. Every day from 8 a.m. to 10 p.m., Jeff was at BRAVO! working with the crew and coaching them through what to do. "It was absolutely incredible. He is absolutely dedicated to this place and these people, and it could not have happened without him," Erik said at The Unveiling dinner.
Now, when you walk into BRAVO! the demi-wall facing the front door is gone, creating a more inviting entrance while enlarging the bar and lounge. The iconic Lynn Green Root mural is still there, but gone are the old white ceiling tiles and green '90s paint and upholstery. Everything has been softened to soothing, modern shades of blues, greys and tans creating a crisp yet calm atmosphere. Music plays over an updated sound system—no tinny tunes anymore!—and the lighting has had a complete overhaul with stunning, starburst-like light fixtures and gold and white lanterns. New artwork adorns the walls, and even the bathroom doors have had the royal treatment with bold new graphics.
Some of the biggest improvements cannot be seen. Behind the bar hides a sleek cruvinet, allowing BRAVO! sommelier, Lesley McHardy, to feature a rotating selection of high-end wines by the glass without any fear of oxidation. And the kitchen has undergone a massive improvement. The remodel not only fixed the foundation, but allowed the BRAVO! team to create a whole new, more efficient layout, while leveling floors, updating management offices, and replacing and refurbishing equipment.
Along with the gorgeous new interior, BRAVO! also updated their menu, restyling it to match their more contemporary look. "Don't worry! Most of your favorites are still here. We did cut a few items to make room for a couple exciting new additions that we think you'll really like—like a new ribeye steak and some great new appetizers. And a few things have been renamed to reflect their classic Italian roots but it is 80 percent the same. If you're looking for something in particular, your server will be happy to help you find it or a new favorite," explains Susan Farris, marketing manager.
To complete the all-new look, BRAVO! now has a new website as well. Farris continued, "We've always been cutting edge—we've been on the web since the internet started, so it was definitely time for an update. It was important for us to have something modern and food-forward to enhance our guests' experience even before they arrive. Our new website is fully mobile compatible and makes browsing the menu and seeing daily specials on your phone a breeze."
Thanks to all these improvements, BRAVO! is now well-positioned to remain a major competitor in the Jackson food scene for another twenty-three years. But BRAVO! has always been about more than just serving great food—it's about connection. It is a place where people can come together, savor the moment, and make memories. Jeff sums it up best: "BRAVO! is more than a restaurant. It is an extraordinary experience. It is in the memories you make here with us; we look forward to continuing that tradition with you for many more years to come."
For more information, visit bravobuzz.com.